StoreTours: An inside look at Harrods' insane new menswear department
Featuring enormous new shop-in-shops from Gucci, Fendi, Prada and more, Harrods' new menswear department is the stuff of retail dreams…
Growing up as a chubby, too-tall-for-his-own-good kid in a relatively uninspiring corner of East Surrey, Harrods – the Knightsbridge store that closer resembles a Disney palace than a shop – was a beacon of possibility and hope in the relatively featureless landscape of my childhood (sorry, Mum).
A shimmering jewel in London's retail crown, where I could as easily pick up a dozen Krispy Kreme doughnuts (told you: chubby) as I could a pair of size 15 Gucci loafers (the bigger styles were always the cheapest), my friends and I would regularly make weekend trips to town, to visit the store and imagine being able to afford the treasures within – the ultimate goal at that time being a bejewelled Dolce & Gabbana rosary…
There's a pleasing symmetry, then, in the fact that now, some 15 years on, I am able to exclusively reveal the inside of Harrods' latest luxury shopping destination, Men's Superbrands, which has been moved from the ground to the second floor of the store.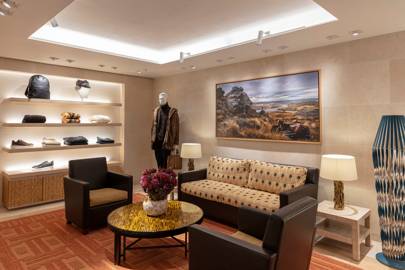 The unveiling is the first step in the Harrods menswear rebranding strategy, which will, in 2020, result in the entire second floor playing host to menswear and sports, with the final space coming in at a whopping 155 square feet.
This first step, the unveiling of Men's Superbrands, sees the creation of some 19 flagship shop-in-shops for brands including Louis Vuitton, Fendi, Prada, Gucci, Burberry and Dior all present on the second floor of the store.
Designed by David Collins Studio, the new space is as ludicrously luxurious as you'd expect. Comprising some 2,060 square metres of marble and 16,400 individual tiles, Superbrands has been designed to make the shopping process as pleasurable as humanly possible. There are seating areas and elegant colonnades, friendly staff and lots of lovely textures to run your hands over as you peruse the rails.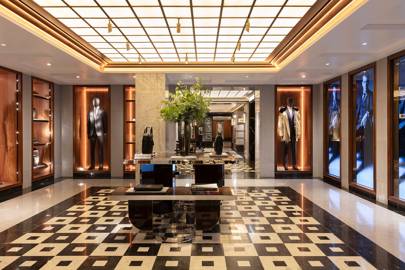 We spoke exclusively to Simon Longland, the general merchandise manager for menswear at Harrods, about his new baby. Here's what he had to say:
GQ: What was the idea behind the new Men's Superbrands space?
Simon Longland: "With Men's Superbrands, we wanted to create a menswear destination like no other. Somewhere that men want to visit, will enjoy shopping in, that would create excitement, but also one that offers a proposition like no other."
Which brands are present? What can we expect?
"Men's Superbrands brings together 19 iconic fashion brands, from Louis Vuitton and Gucci to Loro Piana and Ermenegildo Zegna, but that does so in a way that allows our customer to know they are within Harrods, through relaxed 'dwelling' junctions and arrival squares, but once you step inside the individual boutiques, you are immediately immersed into the individual world of the brand. We are proud to offer flagship concepts that reaffirm one of our main objectives with Superbrands: to offer a unique and elevated shopping experience."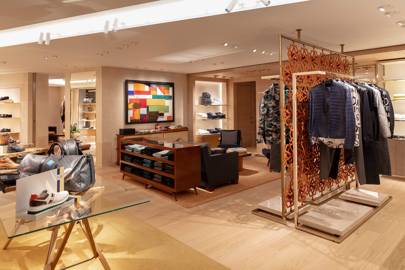 The new Men's Superbrands space feels very relaxed and homely. How have you achieved this?
"Within the boutiques, fixtures have been replaced with furniture. There are domestic touches such as lounge chairs, sofas and side tables and we even have a bar in Berluti. Louis Vuitton has a personal shopping lounge that can be kept open or privatised so our customers feel totally at home and relaxed during their experience."
Do you think that the way in which men shop has changed?
"The drive to redevelop our menswear division follows a truly golden age for menswear both within the industry, with some monumental and ground-breaking changes taking place, and also following the seismic shift in how our customers shop menswear. Last year, menswear was the highest growth division in Harrods and this is because we now recognise that our men want to shop and they like to shop.
"The space has been designed by David Collins Studio and we worked closely with the team to ensure the details, colours and materials remained true to Harrods, focusing on subtle archival references such as wood cornicing and brass fixtures, but continued to push the boundaries in a modern, super-luxurious way. Men's Superbrands is a department for every man, of every age, from every culture; for fathers and sons. Men's Superbrands is an inclusive space of the most elevated of fashion brands. By the end of 2020, the entire second floor will be dedicated to menswear and sports, so our customers can breathe a sigh of relief at the prospect of not having to travel across three floors any more."
Esta noticia está patrocinada por: