Así se vive Women To Watch Summit
Después de la apertura a cargo del director general de Revista P&M, Carlos Fernando Vega, así se vive Women to Watch. La jornada académica inicia con la presentación de Joanna Prieto, co founder and Board president Geek Girls. La Women to Watch 2017 trata el tema "El poder de una marca personal con propósito".
"La marca personal con propósito es que muestres tus talentos, tus diferenciales. Pero, hay que creer en ellos… El propósito te moviliza, te inspira a la acción": @joannaprieto Termina la primera conferencia de nuestro #WomenToWatch #summit #Colombia #2019 pic.twitter.com/gjx7hnaiJW

— Revista P&M (@revistapym) July 25, 2019

Publicidad
La segunda conferencia, a cargo de Katherina Figueras, Human Resources Country Colombia – Accenture, denominada It's all about "I", tiene como eje central la transformación de cara a la formulación de un futuro trascendente.
Katherina Figueras, gerente de recursos humanos de Accenture, da inicio a su conferencia "It's all about 'I'". #WomenToWatch #summit #2019 @Accenture_CO @Accenture pic.twitter.com/3oqgiGc3jn

— Revista P&M (@revistapym) July 25, 2019
La agenda continúa con las conferencias de mujeres líderes que han sido Women To Watch en ediciones anteriores. Vea la agenda a continuación: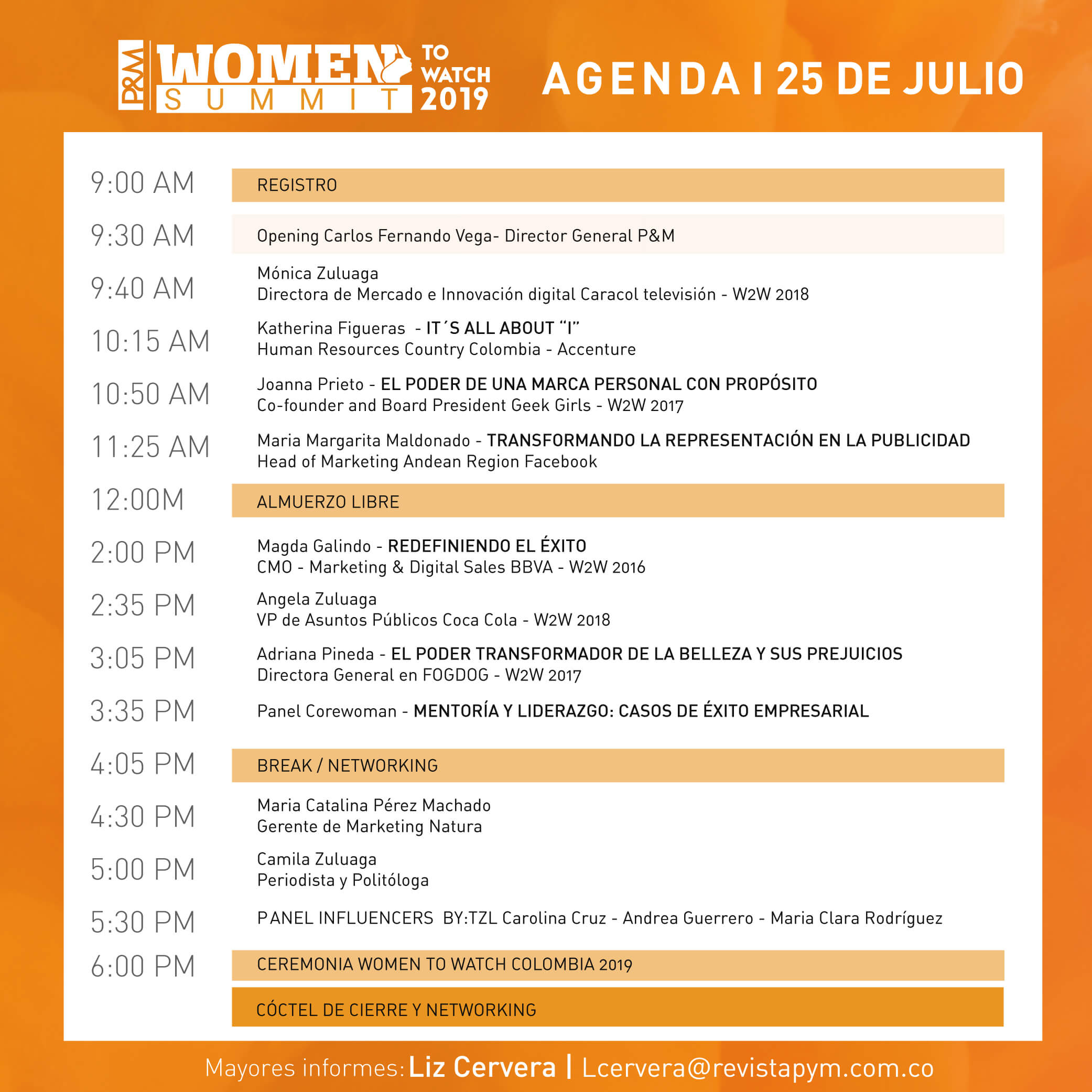 Después de las conferencias la jornada continuará con la gala de reconocimiento de las Women to Watch Colombia 2019.
Siga el desarrollo de Women To Watch Summit en esta nota a lo largo del día.
Comentarios