COMO LES FUE A LOS GRANDES DEL RETAIL EN 2017
Comienzan a conocerse los resultados de las principales marcas del retail en Colombia. Mall & Retail realiza su primer informe de cómo les fue a los grandes jugadores del país.
Un año para olvidar en materia económica.
Cifra del Dane, muestran que la economía durante el año 2017, creció tan solo un 1.8%, el crecimiento más bajo de los últimos ocho años. El sector comercio estuvo por debajo de la economía situándose en el 1.2%. Los resultados fueron el reflejo del incremento de tres puntos de IVA, el desplome de la confianza de los consumidores, el débil consumo de los hogares, las altas tasas de interés y el desánimo generalizado por los escándalos de corrupción del cartel de la toga y Odebrecht, impactaron negativamente las ventas, que llevaron al comercio minoristas a caer en un 0.9%.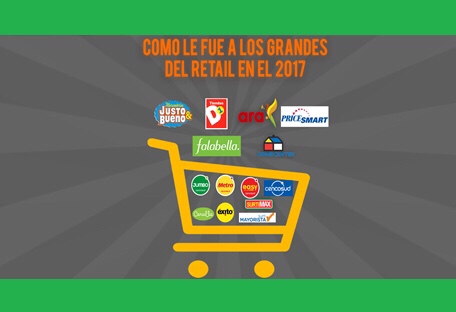 Grupo Éxito.
El principal grupo del retail de Colombia tuvo unas ventas del negocio de supermercados de $ 10.6 billones con un caída del 3.5% con relación al 2016. Las ventas de la marca Éxito se situaron en los $ 7.3 billones con una caída del 2.8% y de 4.3% en misma tiendas. Por su parte Carulla tuvo unas ventas de $ 1.5 billones un 4.2% menos que el año anterior y 4.6% en mismas tiendas. Las Marcas Surtimax y Super Inter llegaron a los $ 1.5 billones con una pérdida el 8.1%. Por su parte el formato Surtimayorista, el formato Cash and Carry, en 2017 presentó un crecimiento en ventas del 10.5%. El Grupo Éxito cerró su operación en Colombia con 574 locales.
El negocio inmobiliario del Grupo Éxito en Colombia. Viva Malls cerro con 14 centros y galerías comerciales, dos de ellos en desarrollo y un área arrendable esperada de más de 434 mil m2 a 2018. Viva Envigado y Viva Tunja tienen aperturas programadas para el segundo semestre de 2018.
La inauguración del primer Carulla FreshMarket con más de 1.300 m2, un formato único con una huerta en su interior, pizza artesanal, carne con sello sostenible, cerveza artesanal servida directamente desde el barril y lechugas cosechadas el mismo día en que son ofrecidas son los aspectos que se destacan de esta nueva apuesta. La Tarjeta Éxito, a su vez llegó a los 2.6 millones de plásticos emitidos.
Grupo Falabella.
El Grupo Falabella, tiene en Colombia tres importantes empresas. La Departamental Falabella, la cadena de mejoramiento del hogar Homecenter y el Centro Comercial Gran Plaza El Castillo en Cartagena.
Las ventas de Falabella crecieron un 8.9% alcanzando los $ 1.75 billones en 26 tiendas que suman 174.831 m2 de GLA lo cual determina unas ventas por m2 de $ 834.592 mensuales. Analizando las ventas de las misma tiendas se presenta una caída del 0.9% en el año. En el año se abrió una nueva tienda en el Centro Comercial Multiplaza de cerca de 8.000 m2 de GLA.
Por su parte Sodimac Colombia propietaria de la marca Homecenter tuvo unos ingresos en 2017 de $ 3.41billones con una disminución del 1.2%. Las ventas mensuales por m2 alcanzaron los $ 772.677 por m2 en sus 368.380 m2 de GLA que tienen en sus 38 tiendas. El comportamiento de las ventas de las mismas tiendas se ubican en un 4.3% por debajo. El año anterior abrió una sola tienda en la zona sur de Barranquilla con una área de 2.100 m2.
Grupo Cencosud.
Cencosud propietaria de las marcas Jumbo, Metro y Easy cerro el 2017 con unas ventas de $ 3.8 billones con una disminución del 4,3% con respecto a 2016. En el periodo fiscal del 2017 termino con 100 tiendas de supermercados (3 menos que 2018). Con relación a las misma tiendas la disminución alcanzó el 4.9%.
Easy la marca de mejoramiento del hogar, disminuyo sus ingresos en un 3.4% en sus 10 tiendas que suman 82.320 m2 de GLA. Por su parte sus dos centro comerciales sumaron los 8.890 m2 de GLA, los ingresos disminuyeron un 3.9% y el nivel de ocupación de sus activos alcanzaron el 34.4%.
Los Hard Discount movieron el negocio de los supermercados.
Si a los anteriores resultados se les resta la inflación del año pasado, que se ubicó en el 4,1 %, la caída en las ventas resulta aún más dramática. Adicionalmente a las condiciones macroeconómicas, tal vez el mayor causante de estos resultados fue el auge que tuvieron las tiendas de descuentos.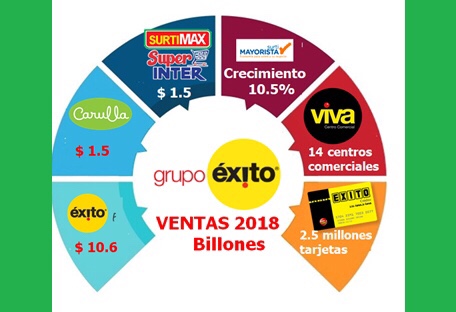 Según cifras de Euromonitor International, estos negocios han tenido un crecimiento entre 2012 y 2017 de 457,9%. A hoy el 14 % del gasto de los hogares se realiza a través de esos formatos.
Tiendas Ara.
La cadena de origen portugués Jerónimo Martins, Colombia propietaria de la marca ARA a cierre del año anterior abrió 169 supermercados, con una inversión cercana a los $ 600 mil millones, completando 389 de estos establecimientos en el país. Sus ventas alcanzaron los $ 1.42 billones con un crecimiento del 70% con relación al 2016
Durante el 2017, JMC, a través de la marca Ara, registró ventas por 405 millones de euros (1,42 billones de pesos), cifra que casi duplica la del 2016, que fue de 831.000 millones de pesos. La empresa Portuguesa alquilo recientemente 15 de los 19 locales que dejo Almacenes Tía.
D1
Koba Colombia por su lado, alcanzó unos ingresos de $ 3.11 billones con un crecimiento del 45.6%. El año anterior abrió 240 tiendas nuevas llegando a los 727 establecimientos, lo cual determinó unas ventas promedio de $ 358 millones mensuales por tienda. Como consecuencia de exigente proceso de expansión registró durante el 2017 unas pérdidas netas por $ 77.942 millones.
PriceSmart.
Entre tanto, las ventas de PriceSmart en Colombia crecieron 10,1% en el último trimestre del 2017. La operación en nuestro país, es una de las más destacadas entre los 13 países de Latinoamérica y el Caribe donde la marca tiene presencia, afirmo Luis Fernando Gallo, country manager de PriceSmart en Colombia. Al cierre del periodo fiscal en agosto de 2017 las ventas alcanzaron los US$338 millones, que representaron un incremento en ventas de 27,2%, teniendo en cuenta la apertura de un nuevo club en Chía con el cual cerro el año con 7 establecimientos.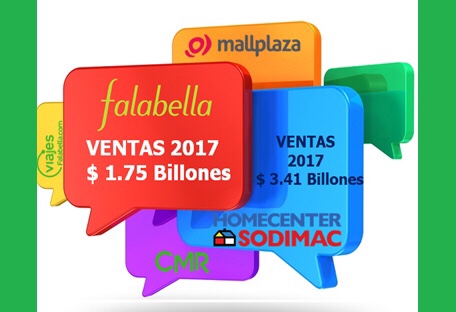 Forus Brand & Retail.
La Chilena Forus Brand & Retail que opera las marcas Hush Puppies, Cat y Merrell entre otras, a través de la firma Lifestyle Brands of Colombia y Forus Colombia tuvo unas ventas de $ 54.324 millones con una disminución del 6% y del 5.1% en mismas tiendas. Al cierre del año termino con 54 tiendas, las cuales ocupan 3.604 m2 de GLA, lo que determinó unas ventas por m2 de $ 1.256.115 mes. En su reporte del último trimestre, atribuye dicho comportamiento desafiante entorno macroeconómico de bajo crecimiento y bajo dinamismo de mercado que vivió el país durante el 2017, la baja confianza del consumidor continuó en niveles negativos y la tasa de desempleo anual 2017 se mantuvo en niveles altos (9,4%). Así mismo el área comercial decreció en10.7%, por el cierre de tiendas.
Studio F
Según reportes de STF Group, en 2017 la facturación alcanzo $610.000 millones, lo que significó una caída de 0,48% frente a 2016 cuando se había logrado una cifra de $613.000 millones. Para Monica Delgado Gerente de STF Group "La baja el año pasado fue por el impacto del IVA a 19%, eso desaceleró sin duda el consumo y se notó especialmente durante las compras de nuestros cliente en el primer semestre". Al cierre del año entre tiendas propias, franquicias y córner shop, la compañía completó 351 puntos, repartidos de la siguiente manera: 250 en Colombia, 68 en México, 15 Panamá, 7 Chile y 11 entre Perú, Costa Rica, Ecuador y Guatemala. Para 2018 se espera llegar a 360 tiendas.
Fuente: Leopoldo Vargas Brand Gerente Mall & Retail.