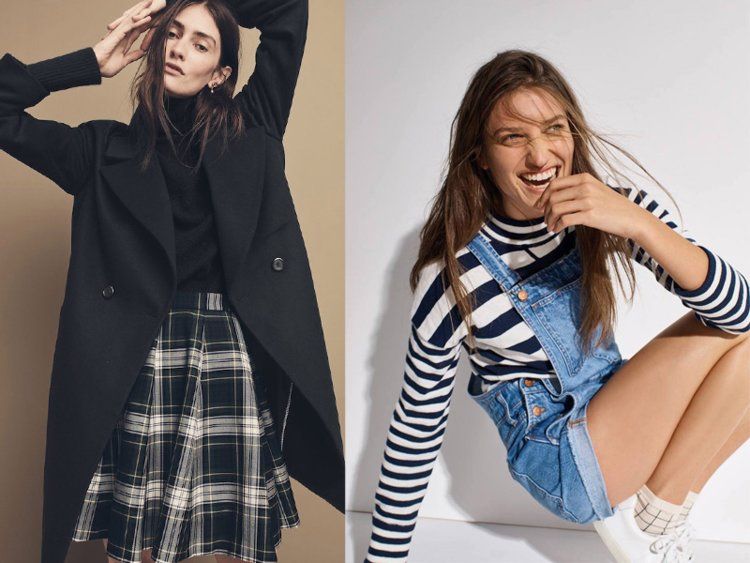 Estas son las rivalidades entre hermanos más grandes en el negocio de la ropa
Las rivalidades entre hermanos son la última tendencia del negocio de la ropa.
Cada vez más, algunas de las tiendas de ropa más populares se encuentran superadas por las mismas marcas que crearon.
Esta semana, Racked informó que J.Crew llevaría su exitosa marca hermana Madewell a algunas de sus tiendas. Madewell es conocida por su mezclilla, pero se enorgullece de su ropa sin esfuerzo y atemporal que no persigue las tendencias de la moda rápida. Si bien J.Crew ha tenido problemas en los últimos años, Madewell se ha convertido en uno de los puntos más importantes de la compañía.
J. Crew no está solo. H & M, American Eagle, Abercrombie y Gap se han visto cada vez más eclipsados por sus sellos hermanos, que están ayudando a impulsar las ventas en la empresa matriz en general.
Eche un vistazo a algunas de estas tiendas y sus famosas marcas hermanas:
J.Crew and Madewell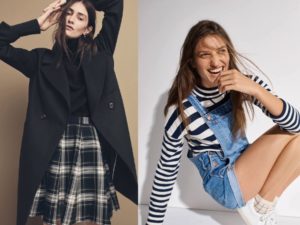 A medida que los clientes abandonan J.Crew, citando precios bajos y caros, las ventas de Madewell se disparan.
Las ventas en las mismas tiendas han disminuido en J.Crew en los últimos tres años, cayendo un 8% en 2016 después de una disminución del 10% el año anterior. En su informe de resultados más reciente, en el tercer trimestre de 2017, las ventas cayeron un 12%. La compañía aún no ha publicado sus resultados del cuarto trimestre.
Mientras tanto, las ventas mismas tiendas de Madewell crecieron un 5% en 2016 y aumentaron un 10%, 11% y 13% en los primeros tres trimestres de 2017.
La compañía ahora está lanzando productos de Madewell en algunas de sus tiendas J.Crew en un esfuerzo por revitalizar las ventas, informó el viernes Racked. J.Crew no respondió de inmediato a la solicitud de Business Insider de comentar sobre el acuerdo.
Madewell ha existido desde 1937. Fue fundado en Nueva Inglaterra por el inmigrante ruso Julius Kivowitz, quien originalmente vendía peto de overoles, pantalones vaqueros y overoles para los trabajadores de las fábricas y los pescadores.
Fue adquirido por J.Crew en 2006 bajo la dirección del ex CEO Mickey Drexler. Drexler se propuso agrandarlo y poner a Somsack Sikhounmuong, que comenzó en J.Crew, a cargo del diseño en 2013.
«Estamos limpiando y simplificando, por lo que dirigimos la colección hacia el diseño clásico, sencillo y sin esfuerzo, y tomando las cosas que Madewell ha hecho mejor: piezas de marimacho, mezclilla y cuero, y dándoles una plataforma más grande,» Sikhounmuong dijo a WhoWhatWear en 2013.
El secreto del éxito de Madewell ha sido conocer a su cliente y no saltar sobre las tendencias de la moda rápida. Su enfoque está en la ropa de buena calidad y más duradera, que históricamente tuvo un precio más bajo que en J.Crew.
Drexler dijo que el aumento de los precios contribuyó a la caída de J.Crew.
«Dimos la impresión de ser una empresa de mayor precio de lo que estábamos: en nuestro catálogo, en línea y en nuestra presentación general», dijo Drexler al Wall Street Journal en mayo de 2017. «Gran error».
Gap and Old Navy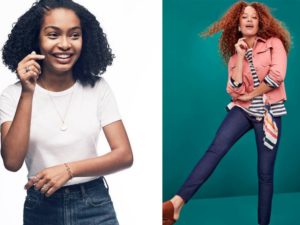 El exdirector general de J.Crew, Mickey Drexler, quien supervisó la adquisición de Madewell, también fue responsable de crear otra popular marca hermana durante su etapa como CEO en Gap Inc.
En 1993, Drexler estableció Old Navy como una tienda más consciente de su presupuesto para atraer a compradores de bajos ingresos.
Old Navy se ha convertido en la gracia salvadora de la empresa matriz. Si bien Gap Inc. ha tenido problemas en los últimos años, Old Navy ha experimentado un crecimiento positivo en las ventas mismas tiendas durante los últimos cinco años.
La tienda tiene un culto de clientes conscientes de los precios que lo eligen a través de Gap debido a sus precios más bajos.
«Tal vez hay un poco de diferencia [en la calidad], pero no lo suficiente como para hacerme sentir que necesito gastar más dinero», Dana McKay, una madre de dos hijos de 39 años que hace todas sus compras en Old Navy y lo ha hecho desde sus días universitarios, le dijo a Business Insider en mayo de 2017.
Old Navy es mejor para saltar en las tendencias que su marca hermana Gap.
«No lo llamaría moda rápida, pero están reponiendo la mercadería con mayor frecuencia. Constantemente estás recibiendo cosas nuevas en la tienda y tiende a ser lo que el consumidor está ansiando», dijo Bridget Weishaar, analista de Morningstar, a Business Insider. .
Old Navy también tiene un sistema eficiente en el que puede probar productos en lotes más pequeños para ver qué tan exitosos son antes de desplegarlos en una escala mayor, le dijo un portavoz de la marca a Business Insider. Esto ayuda a la marca a evaluar lo que se vende bien.
Gap Inc. no respondió de inmediato a la solicitud de comentarios de Business Insider.
Lea tambien: